George Macris Courtier Hypothécaire Agréé / Chartered Mortgage Broker
3500 Boul. de Maisonneuve Ouest, Suite 940,
Westmount,
QC
H3Z 3C1
Business details
Description

Le Vrai Conseiller Hypothécaire...
Il existe généralement deux façons d'obtenir un prêt hypothécaire au Canada : auprès d'une institution financière ou auprès d'un conseiller en prêts hypothécaires autorisé. Alors qu'une institution financière offre uniquement des produits qui lui sont propres, les conseillers en prêts hypothécaires autorisés acheminent chaque année des millions de dollars en crédit hypothécaire vers les plus grandes banques, coopératives de crédit, sociétés de fiducie et institutions financières du Canada. Ils offrent à leurs clients un meilleur choix et un meilleur accès à des centaines de produits hypothécaires! Ces derniers peuvent donc avoir la certitude de bénéficier, en toute sécurité, du meilleur prêt hypothécaire répondant à leurs besoins! Que vous soyez l'acheteur d'une première maison, que vous désiriez emprunter sur la valeur nette de votre propriété (votre avoir propre foncier) à des fins d'investissement ou de loisir, ou que votre hypothèque actuelle arrive simplement à expiration, il vous faut prendre une décision éclairée auprès d'un conseiller impartial. ___________________ There are generally two ways to get a mortgage in Canada: From a bank or from a licensed mortgage professional. While a bank only offers the products from their particular institution, licensed mortgage professionals send millions of dollars in mortgage business each year to Canada's largest banks, credit unions, trust companies, and financial institutions; offering their clients more choice, and access to hundreds of mortgage products! As a result, clients benefit from the trust, confidence, and security of knowing they are getting the best mortgage for their needs. Whether you're purchasing a home for the first time, taking out equity from your home for investment or pleasure, or your current mortgage is simply up for renewal, it's important that you are making an educated buying decision with professional unbiased advice.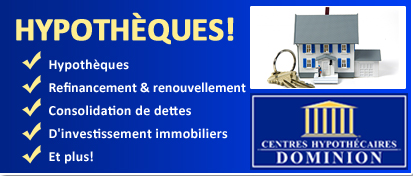 Le Vrai Conseiller Hypothécaire George Macris Inc votre conseiller en Hypothèques avec des services & des références de: - Prêt hypothécaire - Planification hypothécaire - Réduire vos versements hypothécaire - Financement à Rabais - Pré-autorisation - Rétablissement de la solvabilité - Utilisation de la valeur nette d'une maison - Refinancement - Consolidation de dettes - Renouvellement - Propriété de vacances - Résidence secondaire - Acquisition d'un chalet - Investissement dans l'immobilier - Faibles versements - Longue période d'amortissement ou capitalisation à l'échéance - Travailleur autonome ; aucune vérification de revenu - Propriétaires d'entreprise - Accession à la propriété - Achat d'une nouvelle maison - Achat d'une nouvelle propriété - Achat de propriete - Propriété à Revenu - Achat de Propriété - Achat de Condo - Achat de Maison - Vente de Maison - Achat de Duplex - Achat de Triplex - Achat de Quadruplex - Achat de cinqplex - Achat de sixplex Contactez votre vrai Conseiller Hypothécaire...
Categories
---